One of the culture keys, and a cornerstone to how people interpret culture, is how disagreement and team conflict are managed. It has a great deal to do with how people feel safe in a culture, including their experience of what is acceptable and safe behavior, and what is considered unacceptable and unsafe. More than at any other moment in time, people learn about the culture they're in when they experience conflict.
Curious Confrontation:
Facing differing ideas and mindsets with the desire to investigate and learn.
One of the questions that Thomas Lockwood and I asked when researching our book Innovation by Design focused on the influence that the use of design thinking has on how people manage disagreement and conflict. This ended up providing us one of the key attributes consistent across our study group organizations,
We ended up five insights that stood out as being the most significant:
Design thinking provides an effective tool for confronting and managing disagreement and conflict.
Organizations using design thinking have a belief in and positive mindset about curiosity.
People who use design thinking demonstrate better inquiry and listening skills, which is the key to effectively managing disagreement and conflict.
Because design thinking skills can be applied to dealing with disagreement and conflict, confrontation happens in a more timely and healthier manner, thereby avoiding much of the dysfunction and consequences associated with it.
Design thinking is a valued process for confronting disagreements and misalignments among functions, and their leaders, and effectively breaking down unhealthy silos.
One of the greatest challenges any organization or team will face lies in how it effectively manages disagreement and conflict.
The process of design thinking creates a platform for the constructive management of diverse thinking and strategies, and the conflict that often naturally results. Viewing disagreement and conflict as an opportunity is a quality design thinking organizations can engage in. It's an aspect of creativity and innovation that is natural to any environment in which people are committed to finding and creating the best solutions possible.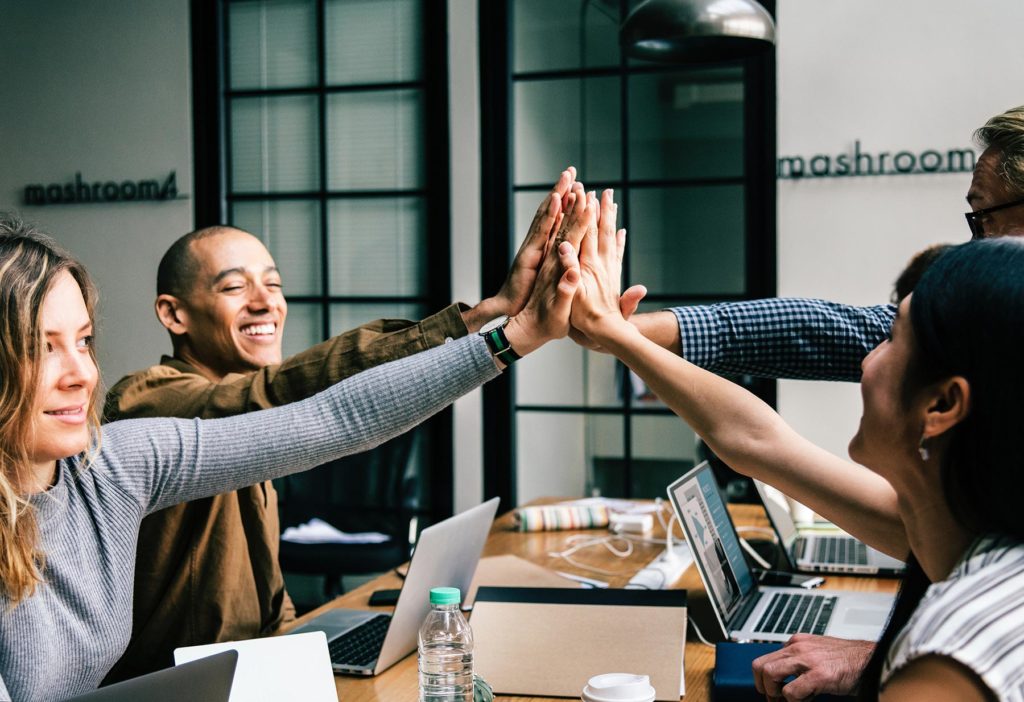 Team Conflict, Competition and Creativity
When managed properly as part of an organization's culture, the commitment to viewing team conflict and disagreement as an opportunity for creativity can be leveraged as a means to drive more innovative solutions to market. When teams compete with one another, it can also add to the speed at which innovation takes place.
A good example of such an environment is at some of the Samsung research and design centers. Here, several design thinking teams are established to work on the same challenges, at the same time. The teams work independently, don't communicate with one another, and often don't even know about the work of other teams. Their goal is to use design thinking to discover new products and services needs and solutions within a specific domain. This does not appear to be a case of lack of management coordination, but rather a case of putting more resources into solving a given problem area to increase the probability of success.
In this environment, internal design thinking team competitiveness is encouraged, and it seems quite practical in that corporate culture. This may be one of the reasons Samsung innovation seems to be far outpacing Apple innovation in recent years.
Although internally competing groups and teams—when clearly articulated as part of an organization's culture and led in a healthy manner—can provide a great benefit, it can also backfire, leading to a lack of information sharing and unwarranted redundancy and duplication. It can also result in a more critical win-lose environment or the bringing to market of products not fully realized. Despite some hiccups along the way, Samsung has used this approach with a great deal of success.
Developing Conflict-Management Skills
As leaders show a willingness to support the teaching of design thinking skills to their employees, they soon become aware of the benefit they get from its use as a team conflict management tool. This includes paying more attention to the development of communication and conflict skills that support its success.
Because design thinking is a way of leading with curiosity, it encourages embracing ambiguity, uncertainty, and confusion. In doing so, people come to understand the value of listening to one another, allowing for the creative process of building one idea upon another. It also feeds the ability of people to move from a reliance on individual creativity and contribution, to behaving more collaboratively and engaging in shared creativity.
It all leads back to the understanding that an openness to listening to one another results in improved levels of inquiry, a necessary element in effectively and resolving conflict.
The skills of listening and seeking understanding are key to empathy, the first step in the design thinking process.
Genuine inquiry and open listening are paramount for users of design thinking to be successful and, as the result of lessened levels of fear, leads to the increased levels of emotional maturity and safety that directly impact how conflict is constructively managed. The result of lesser levels of fear translates into the free expression that leads to the ability of people to engage in the idea generation that feeds the process of co-creation.
When applied to conflicts, design thinking results in greater openness and faster generation of ideas, better feedback loops, and less competition over whose idea is better.
Edgar Papke is the co-author of Innovation By Design and author of True Alignment and The Elephant In The Boardroom. He helps leaders and their organizations align to create greater levels of innovation, performance, and fulfillment. He can be reached by email: edgar@edgarpapke.com